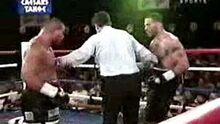 Gary Bell won the New York Golden Gloves title three times and he was ranked in the top thirty as a heavyweight by the World Boxing Council. He is best known for being Evander Holyfield's chief sparring partner for the the Holyfield-Mike Tyson fights of 1996 and 1997.Because Bell was getting the better of Holyfield in the sparring the Tyson-Holyfield fight in November 1996 opened with Mike Tyson as a 20 to 1 betting favorite.Bell fought David Tua on HBO Boxing After Dark in July 1999.The bout was stopped thirty seconds in because of an accidental headbutt.The fight resumed and ended within ninety seconds with Bell standing and Tua declared the winner after a barrage of punches.Some thought the fight should have been ruled a no-contest because of the headbutt.Bell finished his career with a record of 22 wins against 4 losses and 1 draw.
EXTERNAL LINKS
http://www.fightsrec.com/gary-bell-bring-da-pain.html
https://www.amazon.com/Gary-Bell-Trading-Browns-Boxing/dp/B0762JJ1Q7
Community content is available under
CC-BY-SA
unless otherwise noted.