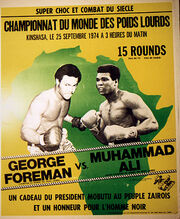 The Rumble in the Jungle
was a famous fight between then Heavyweight champion of the world,
George Foreman
and the former champion
Muhammad Ali
. It took place in Kinshasa, Zaire and was the was promoted by
Don King
.
Foreman, having been undefeated and having successfuly knocked out Joe Frazier to win the title as well as Ken Norton a year later, the only two men to have defeated Ali (though Ali beat the two in rematches), was the overwhelming favourite for the fight.
Ali won the first round of the fight by boxing Foreman, but as the fight went on, Ali used an unusual tactic - the Rope-a-dope, where he leaned against the rope as Foreman fired his brutal punches, which mainly hit Ali on the arm and caused Foreman to tire. Occassionally, Ali would fire back, hitting Foreman with clean shots. In Round 8, Ali was thought to be slightly ahead on points and quickly confused Foreman by getting off the ropes, going around him and firing a rapid combination of blows, which send the latter to the canvas for the very first time in his career. As referee Zach Clayton counted, Foreman looked at his trainer Dick Sadler for the go-ahead to stand up, however, Sadler's timing proved indecisive as Foreman was counted out and Ali declared the victor, becoming the second man to regain  the world Heavyweight title. Four years later, Ali would go on to win the title an unprecedented third time, against Leon Spinks, a few months after narrowly losing to him.
Community content is available under
CC-BY-SA
unless otherwise noted.